As of today it is possible to make online an appointment with your doctor through our website.
You can click at the bottom on the icon.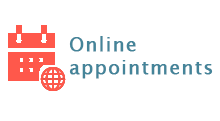 This can be done every workingday, evenings and the weekends!
If you have a question, you are not sure whether you should come or the complaint is urgent, please always call with the practice.
We hope to improve accessibility and provide you with better service.